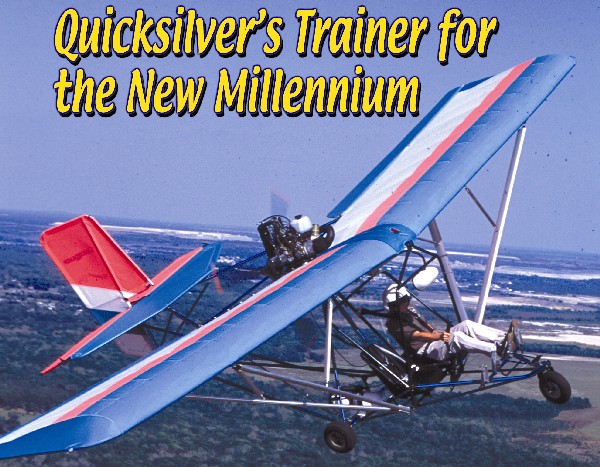 Think about the Cessna 172, workhorse of general aviation and the most popular aircraft ever built. Cessna is once again building them though the plane has seen little change other than new interior finishings and avionics.
Published in Light Sport and Ultralight Flying
| | |
| --- | --- |
| Empty weight | 430 pounds |
| Gross weight | 1,000 pounds |
| Wingspan | 31 feet 2 inches |
| Wing area | 170 square feet |
| Wing loading | 6.1 pounds per square foot |
| Length | 18 feet |
| Height | 8 feet |
| Kit type | Assembly-type bolt-together) |
| Build time | 50-75 hours |
| Standard engine | Rotax 582 2-cycle |
| Power | 65 hp at 6,500 rpm |
| Power loading | 15.4 lbs/hp |
| Cruise speed | (75% power) 64 mph |
| Never exceed speed | 80 mph |
| Rate of climb at gross | 850 feet per minute |
| Takeoff distance at gross | 325 feet |
| Landing distance at gross | 125 feet |
| Standard Features | Rotax 582 engine, ASI, full dual controls with dual rudder pedals and steerable nosewheel, dual throttles, mechanical brakes, in-flight adjustable trim, 4-point seat belts, double-surface presewn wings, 2-blade wood prop, extensive manuals. |
| Options | Warp Drive composite prop, ballistic parachute, floats, instruments, electric starting. |
| Construction | Aluminum airframe, 4130 steel pilot cage, presewn and full-color wing, Dacron coverings, all AN hardware. |
Design
Cosmetic appearance, structural integrity, achievement of design goals, effectiveness of aerodynamics, ergonomics.
Pros – America's most commonly used trainer is now available with struts, lending a modern look (though cable-bracing is still available on other MX-series models). Quicksilver has one of the best quality control systems in the business and has substantial in-house machining ability via related businesses. Dealer support is good throughout the world. Certified in some countries and as well-tested as any design flying.
Cons – Struts are heavier than cable-bracing (though 2-seater can still qualify under ultralight training exemption easily). Open cockpit won't fit some locales and fairing this design actually detracts from some of its appeal. Even with struts, some buyers will view the design as dated.
Systems
Subsystems available to pilot such as: Flaps; Fuel sources; Electric start; In-air restart; Brakes; Engine controls; Navigations; Radio; (items covered may be optional).
Pros – Design is elegant in its simplicity with few systems to manage. Trim lever moves stick and is precise and reasonably effective. Easy repair access. Brake lever is on front of stick where each occupant can use it. Test ultralight was equipped with electric starting. All aspects of the ultralight are available for easy inspection and repairs. Switches located overhead in secure, out-of-the-way location.
Cons – Those who want flaps, radios, and navigation equipment have other ultralight choices that may be more appropriate. Trim system could use additional range when flown solo; lacked enough nose-down range (though an adjustment may fix this). Brake lever requires a large hand for maximum effectiveness.
Cockpit/Cabin
Instrumentation; Ergonomics of controls; Creature comforts; (items covered may be optional).
Pros – Wide open cockpit allows intimate air contact and huge visibility. Fun, friendly flying (if the weather is pleasant). Entry/exit are effortless. Dual pedals and center stick with extra long grip area for student and instructor. Side-by-side seating is often considered optimal for training. Test ultralight was equipped with 4-point belts.
Cons – Its strength is also its weakness; many buyers don't seek open-cockpit designs, which are windy. Sits on its tail till occupied. A pod must be bolted on if you want instruments that aren't clamped to tubes. Control stick and throttle have no hand support. Nosewheel can throw loose materials toward pilot. Seats have no adjustment. Overhead instrument pod requires considerable eye movement. No cargo area.
Ground Handling
Taxi visibility; Steering; Turn radius; Shock absorption; Stance/Stability; Braking.
Pros – Standard nosewheel steering is effective and operable from either seat. Brakes worked well. Taxi visibility is open in all directions. Absorption surprisingly good considering suspension is limited to air in the tires and frame flex; new lower frame is built of larger diameter tubing. Very stable in taxi, thanks to broad gear stance.
Cons – The IIS rides low over the ground; tall weeds can catch on frame members. Lack of true suspension can mean damaged parts when landings are too hard (though parts are replaced with surprising ease). Students must be instructed not to put their feet on ground while moving. Brake effectiveness is weak (common on many ultralights).
Takeoff/Landing
Qualities; Efficiency; Ease; Comparative values.
Pros – The IIS rides low over the ground; tall weeds can catch on frame members. Lack of true suspension can mean damaged parts when landings are too hard (though parts are replaced with surprising ease). Students must be instructed not to put their feet on ground while moving. Brake effectiveness is weak (common on many ultralights).
Cons – You can get too slow on landings, running out of flare power if you approach very slowly (thought this IIS model seemed somewhat better at energy retention). Lack of suspension may increase parts damage on poor landings. No flaps and limited slip potential for approach control. Minimal sufficient ground clearance for off-field landings in rougher terrain.
Control
Quality and quantity for: Coordination; Authority; Pressures; Response; and Coupling.
Pros – Very predictable handling. Pitch is actually quite light. Full-span ailerons work well without excessive adverse yaw. Rudder is as powerful as ever. Trim is quite effective, especially when dual. Precision turns to headings are straightforward. Roll rate is fast enough but won't surprise new pilots.
Cons – Pitch is light enough that you can over-control. Rudder remains a strong force but no longer dominates handling (though this may be appreciated by some 3-axis pilots). Stick pressure is heavier in roll than pitch, causing some reduction in harmony; my Dutch rolls were not precise at first.
Performance
Climb; Glide; Sink; Cruise/stall/max speeds; Endurance; Range; Maneuverability.
Pros – Climb is very strong with 65-hp Rotax 582, factory states 850 fpm (and Quicksilver is careful about specifications accuracy). Cruise speed seemed higher than older, cable-braced models, though this is quite subjective. Quicksilver IIS remains very tolerant of flying techniques, part of what makes it a good trainer and starter ultralight. The ability to handle short, soft fields with ease can be considered a performance attribute.
Cons – Glide is weaker than many cleaner, faster designs. Sink rate is on the high side of average for a 2-seater. Fuel burn is high. It's hard to fault a design this popular; clearly it does what most buyers want.
Stability
Stall recovery and characteristics; Dampening; Spiral stability; Adverse yaw qualities.
Pros – Stall recovery is nearly immediate, minimizing altitude loss. Speeds were very slow in every test. Good spiral dampening. Push/pull-release stability test produced excellent results. Design is very tough in the air; I doubt it could be broken even with very poor technique. Factory often fits ballistic parachutes even though design standards are rigorous. Adverse yaw surprisingly low for full-span ailerons.
Cons – The Quicksilver design is one of the most reliable, making faultfinding challenging. I looked for weaknesses and found none in this category.
Overall
Addresses the questions: "Will a buyer get what he/she expects to buy, and did the designer/builder achieve the chosen goal?"
Pros – Very good value for an ultralight that will give loads of satisfaction. Superb choice for instructors, a common trainer in the U.S. and in many countries. Students will accept it as a "genuine ultralight" immediately. Structure is arguably the most proven ultralight in existence. Quicksilver offers superior support; many dealers stock parts and offer full services in nations around the world. Company's assembly, flight, and maintenance manuals are among the best available.
Cons – Design appears dated to some buyers, even with the strut fittings and cleaner upper surface. Flies too slowly for hard-core cross-country pilots (as do many ultralights). Not enough features for some buyers. Glide and sink rate performance are modest. Weather exposure is too great for some climates.