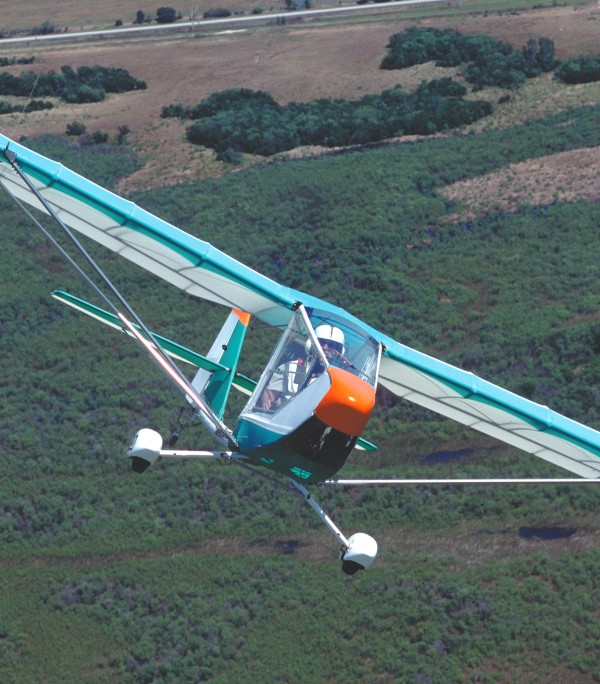 Given Chuck Slusarczyk's decades in recreational aviation, I imagine almost everyone in ultralight aviation has heard of the funny, Polish-speaking pioneer with the hard-to-pronounce last name (Slew-Sar-Chick). If Chuck had named his first business Slusarczyk Glider Supplies, pilots would have stumbled and renamed it for him. Knowing his name is a tongue twister, he wisely called it Chuck's Glider Supplies.
In his early business years, when Chuck was younger and slimmer, he made hang gliders. Lots and lots of hang gliders. I flew one, as did thousands of others. He was one of a handful of east-of-the-Mississippi hang glider manufacturers. Being a long way from the West Coast where hang gliding was centered back in the '70s, Chuck made the Californians nervous. They couldn't keep an eye on his developments and he was regarded as unpredictable. Those who knew him thought the word should be innovative.
Then came powered hang gliding, such as it was in those days. With a background in powered aviation, Chuck made the leap and was soon selling power packages to people all over the country who wanted to launch their hang gliders from flat ground. Still unpredictable or innovative, he created his reduction drive and sold thousands more.
In the very early '80s Chuck went to Sun 'n Fun with his reduction drives. While displaying, he surveyed buyers and found they were ready for something completely different.
The Hawk is Born
Renaming his business CGS Aviation, Chuck introduced an ultralight that he named the Hawk, which looked nothing like the powered hang gliders that folks regarded as ultralights in those days. It was enclosed – blasphemy at a time when foot-launching was mandatory. Yes, you read it right, mandatory!
The Hawk also had 3-axis control, flaps, wing bracing struts (not cables), and tricycle landing gear. Those features may be commonplace today, but in those days before FAR Part 103, Slusarczyk was way out on a limb with his unusual creation.
Fortunately the market didn't care. Hawks began to sell, faster and faster. FAA wrote Part 103 that allowed machines like Chuck's (doing away with the ludicrous foot-launch requirement). And on the broad backs of Slusarczyk and others, an industry took wing.
Over two-plus decades that followed, Hawks proliferated. CGS Aviation built more and more of the owner-pleasing machines and the design itself evolved into what is now six models: The single-place Hawk Classic and Arrow, the 2-place Hawk Classic and Arrow, the Hawk Plus, and the Hawk Sport. All are available in trigear or taildragger configurations. Having flown every other model from CGS, I'm happy to add the latter as the subject of this pilot report.
According to Chuck, "The Hawk Sport single-seater is the hot rod version of the standard single- seat Classic. It was first developed to compete in the World Air Games in 1999." This competition is held once every two years in different countries. In the last three competitions at the World Games, the Hawk Sport and its owners have won first place (two competitions in a row), second place, and a third place. What manufacturer could resist bragging about such achievements? And to understand it better, think of the many sleek and highly tuned aircraft from other nations vying to take home the prize.
The Hawk Sport differs from the company's Classic in several ways. The Hawk Sport uses a double-surface wing with a semisymmetrical airfoil instead of a flat bottomed one employed on the standard Classic models. Lower ribs on the lower surface of the wing form the airfoil with a gently curved undersurface. The semisymmetrical wing allows the stall speed to remain low but allows the top speed to increase.
The Hawk Sport's wing struts are made of a fully streamlined aluminum extrusion that Slusarczyk says do not require the use of jury struts. They yield less drag and more speed or, he explains, you can cruise at the same speed with a lower power setting. In addition, the gear legs have streamlined fairings over the fiberglass gear legs for additional drag reduction.
The Hawk Sport also incorporates the same curved overhead and curved windshield as on the more deluxe Arrow models. In addition to improving visibility, the curved overhead structure gives taller pilots 3 extra inches of headroom. Even tall pilots can wear a helmet. Finally, a fiberglass nose cone cuts drag further and produces a sleeker appearance. CGS reports the Hawk Sport model has the same top speed as the standard single-seat Hawk Arrow, assuming the same engine and prop installation.
The test plane this month was built by Steve Bensinger, who picked the Hawk Sport because he wanted to compete in the '03 World Microlight Championships in England. Because of this mission, Bensinger made changes to the equipment installation.
Customized Hawk Sport
Bensinger modified his throttle location to place it on the right. Normally it would be on the left so you can use your right hand on the joystick and left hand on the throttle. Placing the throttle on the left also keeps it out of the way when you enter the cockpit. But as a competition pilot, Bensinger felt he needed to keep up with in-flight written records. Since he's right-handed, he flies with his left hand and scribes with the right.
Though I'm quite adaptable in airplanes and have flown with my left hand on the stick, I'm also right-handed and it seemed a bit awkward during landing approach to use my less well-trained left hand.
Bensinger fitted no in-flight trim, though his tail had a fixed tab on the left elevator.
A larger door allows access to the rear of the Hawk Sport. Normally single-place Hawks have a small rear door and the Sport is a single-place, but it has a 2-place-sized door into what some will call the cargo area. Some structure prevents using this space for humans – not to mention the airframe is designed for single-place operation – but it has lots of room for gear you might want at your destination.
Hard doors are also an option, but CGS Aviation indicates the flexible doors are more common purchases. Those pilots flying in colder climates may prefer the hard doors.
Bensinger's Hawk was also fitted with a "nose window," which he says is very useful for competition because of the downward visibility directly under your ground track. Indeed, I found myself spotting ground references and looking for traffic through the floor window.
As I've discovered with other Arrow models, the Hawk Sport's curved windscreen and nose window provided very little glare. The only instrument readout reflected to the windscreen was from Bensinger's very nice floating compass.
The single-place Hawk Sport features a roomy cockpit (I'm of average size and weigh about 175 pounds). You have a lot of "glass" around you giving an immense visibility. Big pilots should feel comfortable in the design.
As the photos show, Bensinger chose the taildragger Hawk Sport for greater aerodynamic efficiency, but it can be built in either nosewheel or taildragger configuration. So, even without engine differences – and CGS offers a range of engines from Rotax, Hirth, and HKS – the company could brag that it sells a dozen designs.
Fortunately, hydraulic systems have advanced a lot from the Hawk's early days. Bensinger installed them and indicated the brakes really work in this Hawk. He was right; they were some of the best I've ever used.
Jumping to Fly
Bensinger installed the 40-hp Rotax 447 with a single carburetor. In an age when the 81-hp Rotax 912 4-cycle engine seems to be popping up everywhere, some buyers may question the power afforded by the smallest Rotax the company sells today. It's enough, in my opinion.
In practice, takeoff seemed surprisingly lively with the Rotax 447 engine doing the work. The Hawk Sport got off the ground quickly, certainly faster than I expected, and she climbed enthusiastically. Sure it would be faster yet with a Rotax 503 or bigger, but you have plenty of power and the small engine is modestly priced at $2,697 when bought with the Hawk airframe and covering kit. Electric start adds $760.
Sufficient power is present to allow a steep enough climb that you'll have to use left rudder to counteract P-factor. My first takeoff using my left hand in a crosswind felt a little odd, but I think most owners could get used to it easily. Naturally, though, most will install the throttle per the builder's manual and place it on the cockpit's left side.
My landings in the Hawk Sport, operating in a slight crosswind, all exhibited a flare at slightly higher than optimal, which had me plop in more firmly than I'd like. One of the landings was excellent, so a minimum of practice ought to have you performing like most Hawk owners. I might have performed better using my right hand on the stick, and I definitely would prefer to be able to rest my arm while maneuvering as it steadies movements.
The Hawk Sport's wide landing gear stance serves two functions, says CGS Aviation. First, it allows for greater crosswind capabilities ("tested to 20 knots at 90°," they say). The wider gear also prevents stones or gravel, kicked up by the tires, from hitting the prop.
Aloft over my favorite Florida practice area, I found the Hawk Sport proved much more responsive than several other ultralights I'd flown recently. Her control stick, rudder pedals, and throttle were very fluid in use. No wonder virtually all Hawk pilots to whom I've spoken glow when discussing how much they like their ultralight.
The Hawk Sport's flaps were child's play to operate even though you reach across your body to articulate the lever near your left shoulder. The flaps also deploy easily and work effectively, a great combination.
The control stick forces are light enough that you can easily fly with only your fingertips. I enjoyed the control operation a lot as I have since flying Hawk Number 33 way back in '84. Many pilots have told me they prefer more feedback from their ultralight, and yet I think the Hawk Sport falls within a novice's capabilities.
However, control descriptions must take into account the control response as well as the mechanism and ergonomics of the cockpit. All contribute to effective performance, that is, your overall success at precise aircraft control.
One thing I didn't love was the stick position such that I could not rest my arm on my leg. Without that anchor point I was slightly erratic in my control. Of course, practice would eliminate such beginner errors, but an armrest is a good design if it results in better control of the aircraft.
Sporty Performance
As we now watch FAA's new Light-Sport Aircraft regulation with its maximum 138-mph speeds, ultralights like the Hawk Sport that fly at 75 or so don't seem to be high-performance aircraft. Fortunately, maximum speed is but one form of performance.
Bensinger's Hawk Sport with 40 hp compares well to many Light-Sport Aircraft with 80 hp. Bensinger chose a 40-hp Rotax 447 with single carburetor swinging a 2-blade composite prop. Since the Rotax 447 is under $3,000 and the 81-hp Rotax 912 is more than $12,000, that doubling of power comes with a quadrupling of cost (not to mention extra mounting complexity).
Full power at 6,600 rpm maxed out at 86 to 87 mph, according to the Bensinger's Stratomaster electronic engine monitoring instrument by MGL Avionics. This proved to be an excellent instrument with a number of useful features, including altimeter, airspeed, tachometer (in large readable numbers), but also the time, flight duration, flight distance and range. Beyond this information, you can also get fuel flow and a stopwatch plus, as expected, the instrument offers cylinder head temperature (CHT) 1 and 2, plus exhaust gas temperature (EGT) 1 and 2 readouts. The latter, plus fuel quantity, are portrayed both in numerical form and in a graphic bar chart. This one instrument was paired with a liquid-suspended compass, part of Bensinger's outfitting.
By my subjective evaluation, the engine setting that felt the best seemed to be about 5,000 rpm, but the throttle didn't want to stay put precisely. At this setting, vibration and noise were lessened considerably. In the low 5,000-rpm range while holding a steady altitude, speed was around 65 mph.
The day I flew, the air was convective and buoyant, and so at 3,500 rpm and two notches of flaps, I could almost hold altitude. It was also remarkably quieter which I could tell from tape-recorded in-flight notes. The speed at this lower power setting was about 45 mph. To me this kind of efficiency is a form of performance the 138-mph machines will ignore (they're allowed to stall several miles an hour faster – 45 knots or 51.8 mph).
Adding one more notch of flaps, to full flaps at the 3,500-rpm power setting, slowed the speed a few more miles an hour and a 300- to 400-fpm descent began.
Sustained climb was better than 800 fpm over a fairly long test period. I found this impressive from a 40-hp Rotax 447 powerplant. Average fuel usage is quoted in the area of 3 gallons per hour, but I feel sure you could reduce this noticeably at lower power-setting cruises.
Low flying over the fields was very relaxing, although the most comfortable speed to do this was a relatively zippy 50 mph. I used two notches of flaps as three provided too much drag for this kind of flying.
Sturdy Bird
A plane is often regarded as "safe" if its flight characteristics and overall performance are considered exemplary. The bigger picture includes design standards that deal with crashworthiness. It happens and when it does, a good design will protect the pilot.
Slusarczyk writes, "The first concern during the Hawk's design was how to best protect the pilot during a forced landing in trees, rough fields, barbed wire fences, buildings, or other unforeseen obstacles. The sturdy bridge-like structure of 1-inch diameter tubing forms a roll-cage that surrounds the pilot completely. Combine this with the seat belt and shoulder harness restraint system, and you have the ideal situation wherein the airframe takes the initial shock of impact instead of the pilot." Like auto "crush zones," this is an important buffer zone.
Getting back to in-flight work, stall in the Hawk Sport appeared to come at a hair over 40 mph, but because it never really broke even with the stick full aft, it was hard to tell the precise moment of stall. It might be below 40 mph.
Power-on stalls also came just above 40 mph and still no stall break. Even the common wallowing at the top of the stall arc didn't materialize. Accelerated stall to the left rolled neutral. To the right it did not roll neutral, no doubt due to P-factor.
Bensinger said he built his Hawk Sport in about eight weeks from the day he got the kit until he test-flew it in preparation for a competition. He specifically bought a single-seater to compete in that class.
For an excellent photo review of Bensinger building and documenting the Hawk Sport used in this flight review, go to http://home
page.mac.com/sbensinger/PhotoAlbum12.html .
Purchase of a Hawk is slightly different because it is sold as a complete airframe kit for $8,907 (in the fall of 2004), but this figure includes "factory prebuilt" flaps, ailerons, rudder, vertical stabilizer, horizontal stabilizer, and elevator. However, a Covering Package, which includes either 3.8-ounce Dacron or dope-and-fabric kit are sold separately for $1,771. Thus, airframe with covering is $10,678. If you choose dope and fabric you must add paint, which can add a significant extra cost. Dacron, in comparison, will come in preselected colors.
Then, you choose your engine. Bensinger went with a 40-hp Rotax 447 for a with-airframe-kit price of $2,697. Add $760 for electric starting. You can move up to the Rotax 503 for about $700 more, the 65-hp Hirth 3203 for $2,500 more, the 65-hp Rotax 582 for about $3,600 more, or the 60-hp HKS 700E 4-stroke for $5,800 more than the Rotax 447 (all engine prices are subject to change with currency fluctuations).
Popular options include in-flight trim ($89), additional 5-gallon fuel tank ($75), hydraulic brakes ($322), wing/tail folding package ($278), hard doors for single-place (2 doors for $190), tinted Lexan windows ($150), and/or BRS parachute, for which you should call to obtain the current price.
Other common options are the fast-build kit that requires only 100 hours to complete for a first-time builder ($2,000), ready-to-fly single-place ($4,500), the wing tank kit including all plumbing ($424), or wheel pants ($324 for a set of three). Amphibious or standard floats are available, but as with the parachutes, you'll want to call for details, the company says.
Over the many years I've been writing flight reviews, I've spoken to many Hawk owners. I don't believe I've met owners of any other brand that seem to speak in such a satisfied way as Hawk owners. If a Hawk Sport interests you enough for purchase, the odds are high you'll join this happy bunch of fliers.
Published in Light Sport and Ultralight Flying
| | |
| --- | --- |
| Seating | 1 |
| Empty weight | 310 pounds |
| Gross weight | 625 pounds |
| Wingspan | 28 feet 10 inches |
| Wing area | 135 square feet |
| Wing loading | 4.6 pounds/square foot |
| Length | 22 feet 2 inches |
| Height | 4 feet 8 inches |
| Kit type | Assembly Kit |
| Build time | 200 hours (first-timer) |
| Standard engine | Rotax 447 (40 hp) |
| Power | 40-65 hp |
| Power loading | 15.6 pounds/hp |
| Cruise speed | 55-75 mph |
| Never exceed speed | 100 mph |
| Rate of climb at gross | 900 fpm |
| Takeoff distance at gross | 200 feet |
| Landing distance at gross | 150 feet |
| Standard Features | Rotax 447 single-carburetor powerplant, full enclosure with doors, trigear or taildragger configurations, curved cockpit members, 4-point pilot restraints, streamlined struts, landing gear fairings, lower rib semisymmetrical airfoil, 5-gallon fuel tank, choice of trigear or taildragger configuration, fiberglass nose cone, wheel pants. |
| Options | 50-hp Rotax 503, 65-hp Rotax 582, 60-hp HKS 700E, Hirth engines, electric starting, engine and flight instruments, ballistic parachute, folding wings and tail, hydraulic brakes, dope-and-fabric covering, wheel pants, floats, 10-gallon wing tank, quick-build kit, 2- or 3-blade composite prop, quick-build kit, fully-assembled option. |
| Construction | Aluminum airframe, steel components, Lexan windscreen, fiberglass gear legs and nose cone, Dacron wing, tail and control surface coverings. Made in the USA; distributed by a U.S.-owned company. |
Design
Cosmetic appearance, structural integrity, achievement of design goals, effectiveness of aerodynamics, ergonomics.
Pros – After more than two decades, the Hawk Sport is a fresh choice from CGS for those content with a single-seater. Great manners and good performance, a good combination for beginners and experienced pilots. With well over 1,500 Hawks flying, most owners are very pleased. Manufacturer Chuck Slusarczyk is one of the most delightful designers in the business.
Cons – If you're looking for something new and different, the Hawk Sport is probably not it. Having only a single seat will affect resale to a market interested in 2-seaters. Building has stymied a few buyers to whom I've spoken; usually they referred to a manual they found insufficiently clear.
Systems
Subsystems available to pilot such as: Flaps; Fuel sources; Electric start; In-air restart; Brakes; Engine controls; Navigations; Radio; (items covered may be optional).
Pros – Brakes and flaps (which are standard) worked very well and were easy to operate; flap position easily identified (though you must turn your head to see the detent position). If you don't use a multi-function instrument like builder Steve Bensinger, you might find instrument panel space to be rather limited.
Cons – Nondifferential brakes did not aid with steering. No trim installed; instead this builder used a fixed tab that seemed to do the job. In-cabin pull starter on a smaller engine will be challenging due to the layout. Refueling causes some fumes inside cabin.
Cockpit/Cabin
Instrumentation; Ergonomics of controls; Creature comforts; (items covered may be optional).
Pros – Roomy cockpit can accommodate large pilots. You enter bottom first (which lowers the plane to its nosewheel), then swing your legs in. Seats are quite comfortable with 4-point pilot restraints. Controls are very convenient. Substantial area available for cargo if carefully tied down.
Cons – Some pilots don't like the way the Hawk sits on its tail when unoccupied. Zippered doors seem basic. Hawk windows can be folded inward a bit to allow ventilation. No quick seat adjustment.
Ground Handling
Taxi visibility; Steering; Turn radius; Shock absorption; Stance/Stability; Braking.
Pros – Excellent visibility to check for traffic. Side visibility is also good as you sit at the leading edge of the wing. Steering was quite responsive. Hydraulic brakes were very effective. Good clearance for rougher fields. Wide stance offered good lateral stability. Fiberglass gear legs are guaranteed 10 years.
Cons – While the Hawk Sport's steering is responsive, turn radius is not particularly tight and without differential braking, planning will be required on a crowded ramp. No other negatives.
Takeoff/Landing
Qualities; Efficiency; Ease; Comparative values.
Pros – All Hawk models seem to excel at takeoffs and landings. Very open visibility on approach to landing. Factory advised 50-is-nifty approach speed has a liberal safety margin. Retains energy retention well in ground effect. Flaps were very helpful. Strong, authoritative controls in crosswinds.
Cons – Taildraggers require active feet after touchdown; the Hawk Sport is no different. Slips can run out of forward stick if flaps are fully deployed, use one or the other (flaps work so well, no slip is needed). Landing qualities suggest use of flaps on all landings.
Control
Quality and quantity for: Coordination; Authority; Pressures; Response; and Coupling.
Pros – The Hawk Sport continues a reputation for light and responsive controls; you get what you expect easily and with authority. Steep turns didn't require much extra power. Hawk control harmony remains good. Pitch response would be comfortable to pilots of all experience levels.
Cons – Despite light controls, the Hawk Sport's roll rate isn't particularly fast and joystick can run out of range in some conditions (though these are outside advised, normal use). Adverse yaw was quite significant; coordinated control usage recommended at all times.
Performance
Climb; Glide; Sink; Cruise/stall/max speeds; Endurance; Range; Maneuverability.
Pros – It was a pleasure to fly with a Rotax 447 again, plenty of power for this Hawk Sport. Strong climb at 800 fpm sustained. Flew efficiently, holding altitude even at power settings down to 3,500 rpm. Performed very well in low-over-fields flying.
Cons – Like many American ultralights, the Hawk Sport can't be called fast. Sink rate was only average, not exceptional. Though good overall, performance doesn't stand out in any category.
Stability
Stall recovery and characteristics; Dampening; Spiral stability; Adverse yaw qualities.
Pros – Stalls hardly broke, regardless of entry aggressiveness. Power-on stalls never broke. Stall speeds below 40 mph indicated. No spiral instability noted during any maneuver attempted. Airframe and particularly cockpit has proven its ability to prevent some injuries.
Cons – Deep slips with full flaps will run out of control range; I recommend using only the flaps, which are quite efficient. Adverse yaw requires coordinated use of controls (as on many other ultralight designs). No other negatives.
Overall
Addresses the questions: "Will a buyer get what he/she expects to buy, and did the designer/builder achieve the chosen goal?"
Pros – The Hawk Sport is a wonderful choice for a competitive sport aircraft. The Hawk line and its popular designer are icons of ultralight aviation; when you sell, recognition won't be a problem. For overall flight and handling qualities, Hawks are among my top recommendations and the Hawk Sport is especially satisfying.
Cons – Design has changed little over the years, a work of subtle evolution rather than cutting edge changes. Pricing of airframe, covering, and engine separately may confuse some customers. Over the years, some complaints have been raised about kit manual clarity.