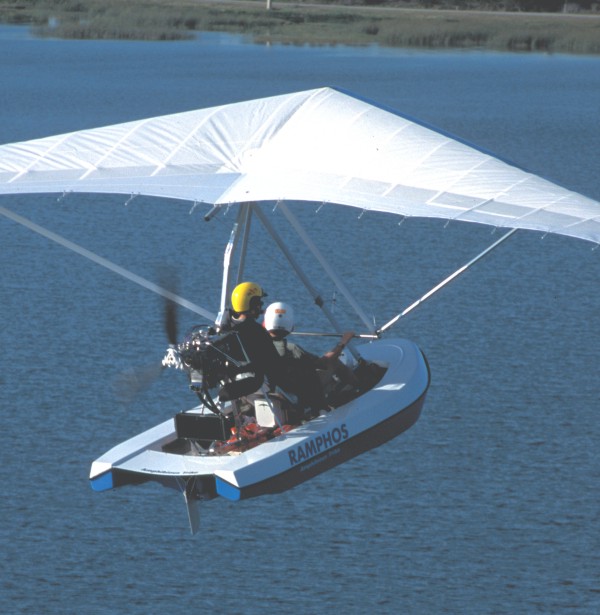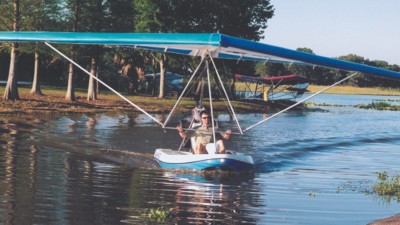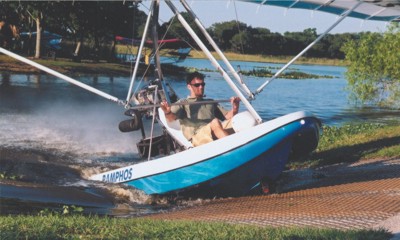 Making a Splash
Last year as the flying season began, an unusual flying boat appeared at airshows. The machine was called Ramphos (pronounced RAM-fohss) and it featured a form of ducted prop surrounding a pair of counter-rotating blades. While these two components commanded a lot of attention, they were de-emphasized when the 2004 season arrived.
In 2003, the presentation was market-savvy. By showing a somewhat radical version of the familiar flying boat design – we've seen a few of these configurations over the years – the Ramphos attracted attention in a crowded marketplace. When you're new (to the American public), you need some way to stand out from the crowd.
However, the downside of new, potentially radical ideas is that people – like me – tend to wait until the new concepts prove themselves. So I didn't fly the Ramphos in 2003. That changed for 2004.
Modern Machine
For the 2004 flying season, the emphasis had been taken off the counter-rotating props, though it was still displayed and remains an option. But the prop duct construction, or "safety ring," appears to be history.
Though you can still order the COAX-P twin, counter-rotating props, the option was expensive and didn't add value enough to convince many buyers to spend more than $5,000 on the feature. Some may still want the feature and indeed, it should reduce P-factor on takeoff. But most will be satisfied with the standard 65-hp Rotax 582 and 3-blade prop as on the Ramphos in which I went aloft. P-factor was easily controlled.
That safety ring was interesting though, and some felt it even added nice lines to the trike. It also reportedly quiets noise somewhat. A properly built ducted fan can increase performance but the earlier Ramphos was apparently not designed for that quality as its chord area was small.
I flew with Enos Gaiga, the talent behind the Ramphos amphibious trike. While apologizing for his English, Gaiga proceeded to speak well of his creation. He's enthusiastic, knows his product, and has innovative ideas, all good qualities for a design engineer working in ultralight aviation.
After Gaiga made contact via American Gil McGarity, sales began to develop in the U.S. McGarity is a flight attendant who formerly flew with Pan Am and now works for Delta. He does the Italian run as he speaks the language fluently. His ease with Italian stems from being born in Italy where he lived for years with his Italian mother and American father.
A language facility, even with technical terms and cultural nuance, aids McGarity's communications with Gaiga. The young designer's English is not as good as McGarity's Italian so they converse in Italian. That way, Gaiga can concentrate his skills and leave McGarity speaking to Americans.
Formerly a New York dealer for Quicksilver Enterprises, one day McGarity saw a Polaris FIB (Flying Inflatable Boat) and he "instantly decided that was the direction I wanted to go." Given his work and interest in Italy, it wasn't long before Gil discovered Gaiga and the Ramphos company.
Ramphos is located in a town north of Venice, Italy. Gaiga does his development work and trike building in Solimbergo di Sequals, while the boat hulls are fabricated in Rome.
Ramphos Wing
At Sun 'n Fun '03, the trike wing said "Hazard" on it. In 2004, lettering on the wing says Ramphos. McGarity refers to the wing as Hazard, pronounced Hah-ZARD, not HAS-ard. This made sense as the American version of the word doesn't sound positive for an aircraft wing.
McGarity explains the background of the wing, "The Hazard 15 has been our standard wing from the beginning. It was certified in Germany more than 15 years ago and has since been certified with more than 20 microlight trike combinations. More than 1,500 units have been built and flown with no reported structural failures."
The wing was designed and is manufactured by Italian aviation legend Walter Mauri, explains McGarity. For 25 years, Mauri has been designing and test-flying aircraft. Even other manufacturers request his test-flying, for 3-axis machines as well as weight-shift.
McGarity continues about the 2004 edition. "[Our] new wing is built with [the Hazard 15] frame as a starting point. The Ramphos 15 'S' has been licensed exclusively to us and will be available as a stand-alone product for any 2-place trike." The Ramphos S wing is presently priced at $5,900 plus freight.
"We are now actively pursuing the German certification for this new wing," McGarity indicates. "Initial in-house load testing has indicated +6G and -3G. Both wings feature an adjustable keel tube that has a downward angle at the rear of 8 to 12°. This has, in effect, lowered the stall speed without affecting the cruise speed."
With an empty weight of 462 pounds plus two occupants at around 350 pounds, the wing was lifting a good measure of weight. So loaded, it appears to hold its shape very well.
At this gross weight the Ramphos 15 S wing handles in the middle of the range of more heavily loaded, tautly stretched wings. Bar pressures were higher than on single-place, or the top tier of good-handling big trike wings. Like others in its class, the wing shows less agility than smaller wings with lighter carriages. I did not fly the wing solo, but my guess is that handling would improve noticeably had I not carried Gaiga and his 150 to 160 pounds.
Built for various duties and loads, the wing has multiple hang points. Indeed, for our flight the wing was hung one notch forward yielding a higher cruise speed, says Gaiga. This no doubt added somewhat to pitch pressures, requiring some steady forward push on the control bar as we tried to fly slowly for in-flight photos. We saw speeds of 40 to 50 mph during the photo shoot. At 60 mph handling may have been crisper and pitch pressures neutralized.
Gaiga writes, "Ramphos wings made using UV-resistant Mylar with square area of 15 meters (161 square feet) have been mounted as standard on the Ramphos amphibious trike. Wings up to 21 square meters (226 square feet) can be mounted, too." Even if it's a single-surface design, I'm not too interested in flying a 226-square-foot wing. The handling must be quite ponderous.
McGarity reports that Italian certification has been obtained at a maximum takeoff weight of 450 kg (992 pounds) in which condition 110 kilometers an hour (69 mph) can be reached.
The wing is quite efficient with stall speed coming at a low 30 mph. Though it is 60 to 70% double-surface, the Ramphos wing performs well at slow speeds, a good combination for a seaplane. Speed on water punishes an airframe not usually built for such duty. The quicker takeoffs and landings of ultralight seaplanes save considerable wear and tear, so the Ramphos' ability to fly slowly is a positive attribute.
Amphibious Trike
Boathulls or floats? That is the question. Despite each offering some advantages, most people think a boat-hull aircraft appears to be half-boat, half-airplane. Contrarily, floatplanes simply look like aircraft with big landing gear. Floats, however, generally offer a weight savings over the boathull concept.
At 462 pounds empty, the Ramphos amphibious trike is relatively light for an amphibious boathull microlight, lighter than either standard-bearer Polaris Flying Inflatable Boat, or newcomer WeTTrike.
Gaiga's extensive use of stainless steel gives added protection when operating in or near salt water. Like many modern trike designs, the mast pivots at about mid-shaft to allow easier setup. Inside the boathull, tie-down lines on each side connect to loops on the control bar corners. Cleats and pulleys on these tie-down lines allow good security in winds. Such good thinking becomes essential on a seaplane that may not have solid ground to use for tying down.
"The hull is made of common materials that are easily found," says Gaiga. "Therefore the hull can be easily repaired" should an owner have some mishap. Gaiga adds, "The very robust construction of the [boat]hull allows the Ramphos to be belly-landed on grass and muddy surfaces, as well as marshland." Seaplane pilots have long known that you can land a seaplane on land with a lot more success than landing a land plane on water.
TRULY AMPHIBIOUS – Enos Gaiga prepares to show the amphibian nature of the Ramphos. After lowering the gear and gunning the engine, she crawled up on land. (He didn't gun too hard as we were standing nearby, so hands were needed to cope with a steep ramp.)
The Ramphos' overall design of the hull "has derived from a meticulous hydrodynamic study," says Gaiga. The resulting shape not only gives the Ramphos high stability even on rough water, but also improves glide angle and handling, he believes, "with excellent directional control even in unfavorable weather conditions."
The boathull uses a fairly deep V shape with chines toward the outside (see underside photo). This construction, when viewed from the front down low, looks somewhat like a trimaran and this no doubt accounts for its stability and ability to perform on rough water.
In my experience with the Ramphos, her deep V-hull seemed to cut the water well and was a clear contrast to the Full Lotus floats I'd just flown on the Quicksilver II S reported on last month. Each has its advantages, but I'd prefer the boathull on more active water.
The new design of the hand-operated retractable undercarriage makes it very easy to use. Gaiga claims, "Gear retract just needs a sin
gle movement to operate it." I found this to be true. It was surprisingly easy and an "automatic blockage system" prevents the gear from collapsing under load.
Putting the gear down in the water was very easy. Gaiga boasts that the pull forces are only 5 to 6 pounds and I'd say that sounds about right. First, you pull a small handle located under the instrument panel. This releases a lock, which allows you to lower the gear with a long handle on your right. When the gear is fully deployed, an overcenter lock traps the linkages and any force of water movement only enhances this action.
To carry the loads of amphibious gear, the undercarriage mechanism and the main frame with its inline seat frames are made of stainless steel. Gaiga believes that because of its particular design and arrangement, the Ramphos gives a certain degree of protection to the occupants in case of accident.
When the wheels are pulled inside, doors complete the hull's finish. Of course, no door system will completely keep out water, so a series of cleverly arranged tubes collect water and direct it to a drain at the rear. As soon as you break water, the hull drains quickly. A small electric bilge pump vacates any accumulated water during lake operations.
An earlier iteration of the Ramphos was available as a taildragger configuration in addition to the tricycle gear configuration as tested. McGarity says Gaiga is a purist and preferred the taildragger, however, the configuration proved a handful for most pilots (as do many taildraggers), and so tri-gear is now standard. To me, the tri-gear appears to fit the boat hull lines better and while I love taildraggers, too, I don't see the value on a boat-hull seaplane. Gaiga acknowledges, "Tricycle gear is very easy to handle on the ground."
"The propeller can be 2- or 3-blade, made of wood or composite material," says Gaiga. He's worked with several different engine manufacturers. He also said of the older propeller ring, "It functions as a protective as well as an anti-noise device." While I can easily envision such a prop ring as a safety device – to prevent conflict from people's arms and such – I mainly viewed it as having a marketing-oriented function.
Shortly after I flew in the Ramphos, Gaiga returned to Italy to test-fly a new 81-hp Rotax 912-powered Ramphos. "The initial flight was perfect," glowed McGarity. "Only minor adjustments on the engine's angle of inclination were
necessary. The performance was just awesome and it was extremely quiet. We redesigned the engine mount to accept both the Rotax 582 and the Rotax 912."
Your Own Flying Boat
As for most importers, the fluctuations of currency are a constant headache for McGarity. As with all European imports in the last few years, prices appear to have risen dramatically when measured in U.S. dollars. The difference is nearly all dollar/euro exchange rate changes that presently value the euro more highly.
To address price movements, McGarity reports, "I am working towards starting production in the United States. This will take a little time, but the advantages will be a lower cost for the customer (no international freight charges) and we will not be held hostage to the dollar/euro exchange. We have held our price point for the last three years while just about all our material and labor costs have gone up." In other words, you're paying more but McGarity and Gaiga are making less. Any importer from Europe shares his plight.
At this time, price of a Ramphos is about $27,000, which includes shipping from Italy. The one I flew had been air-freighted at a cost of about $4,000 but most will travel by sea to significantly reduce this expense. U.S. production could bring this to zero, plus McGarity's costs won't bounce around as readily.
For interested pilots on a tighter budget, you can save close to $4,000 by choosing a water-only Ramphos for under $24,000. Contrarily, to have the Ramphos we flew, you'll add a few options. The Ramphos "S" 15-meter wing is $900 more than the standard Hazard 15, but for the money you'll get the strut-braced, double-surface wing seen in the accompanying photos.
You may also want to choose a 81-hp Rotax 912 engine (add $8,500), electric start with wiring, E-box, and battery ($1,587), or electric starting for B-box ($1,180). A sleek engine cover ($362) or prop spinner ($220) adds to the lines, and you can protect the hull with a storage cover ($700). Custom hull paint is available ($600) as are dual controls ($700) or a ballistic parachute ($3,395). Some may wish to add emergency hull flotation ($125) and everyone needs to figure crating charges ($500) for the transatlantic shipment.
"The Ramphos can deliver outstanding features, and can find many applications, such as in educational and holiday tours, rescue, first aid, scientific research, TV commercials, etc.," says its designer.
Flying duty acknowledged, I would observe that the Ramphos is just plane fun. If you yearn for both a boat and an aircraft, here's one fine answer. I look forward to a longer flight in the future. How about you?
Published in Light Sport and Ultralight Flying
| | |
| --- | --- |
| Seating | 2, tandem |
| Empty weight | 462 pounds |
| Gross weight | 992 pounds |
| Wingspan | 33 feet 6 inches |
| Wing area | 161 square feet |
| Wing loading | 6.1 pounds/square foot |
| Length | 13 feet |
| Height | 9 feet |
| Kit type | Fully assembled |
| Build time | 25 minute field assembly |
| Standard engine | Rotax 582 |
| Power | 65 hp at 6,500 rpm |
| Power loading | 15.3 pounds/hp |
| Cruise speed | 50-70 mph |
| Never exceed speed | 90 mph |
| Rate of climb at gross | 650 fpm |
| Takeoff distance at gross | 260 feet |
| Landing distance at gross | 300 feet |
| Standard Features | Ramphos S 15-meter wing, 65-hp Rotax 582, altimeter, water temp, tachometer, complete boathull with retractable gear and gear doors, remote choke, center-mounted retractable water rudder, steerable nosewheel. |
| Options | 81-hp Rotax 912 engine, electric starter, counter-rotating props, 4-blade prop, aerodynamic rudder, landing light, non-amphibian version available, ballistic parachute. |
| Construction | Aluminum airframe, fiberglass fairing, stainless steel carriage components, Dacron wing. Made in Italy; distributed by U.S.-owned company. |
Design
Cosmetic appearance, structural integrity, achievement of design goals, effectiveness of aerodynamics, ergonomics.
Pros – Boat hull with integral amphibious gear is lighter than some competitors. Nicely finished deep V-hull with stainless steel trike structure. The Ramphos is well along in development, not a new, unproved product. Has 450-pound payload even with full fuel.
Cons – The Ramphos brand is new to the U.S. and acceptance of internationally built products is not yet certain. Wing has passed German certification but readiness for FAA's proposed Light-Sport Aircraft not known. Wing not known to U.S. consumers. Amphibious trikes get much heavier than wheeled carriages.
Systems
Subsystems available to pilot such as: Flaps; Fuel sources; Electric start; In-air restart; Brakes; Engine controls; Navigations; Radio; (items covered may be optional).
Pros – Retractable gear system works with good efficiency, even in water while engine is thrusting. Easy fuel access in twin tanks on boat hull floor. Good access to engine for maintenance. Test aircraft equipped with electric starting. Landing light available.
Cons – No signal system to tell you wheel position (though fairly fail-safe system seems to offset lack of this information). No experience with hand starting (though cockpit offers enough room for a vigorous pull stroke). No trimmer system fitted to wing. No brakes.
Cockpit/Cabin
Instrumentation; Ergonomics of controls; Creature comforts; (items covered may be optional).
Pros – Simple but adequate instrument pod has water-resistant switches. You can use wide siderails for entry but you must get across them making egress slightly more challenging for some. Sturdy boat hull is inspiring. Very roomy, especially up front. Rear-seat headroom benefits from angled mast.
Cons – Harder to enter than conventional trike without wide boat hull. Seats don't adjust nor do pedals. Rear seat had ridges in an uncomfortable place (Gil says they plan changes to the fiberglass mold). Lap belts on seaplanes are common – and understandable for underwater escape reasons – but they're insufficient in some in-flight upsets.
Ground Handling
Taxi visibility; Steering; Turn radius; Shock absorption; Stance/Stability; Braking.
Pros – Highly effective, retractable water rudder. Simple gear retraction system that requires only 5 to 6 pounds of effort on a single handle (after releasing a lock). Gear doors prevent most water from entering; a drain system and bilge pump take care of the rest. Excellent all-around visibility.
Cons – Wheels are small for taxiing on an unimproved or soft field. Handling a big wing in some wind calls for some muscle. Downwind operations in most seaplanes are challenging; even more so in a big trike. No brakes for land operations. No other boat operation negatives.
Takeoff/Landing
Qualities; Efficiency; Ease; Comparative values.
Pros – Takeoff and landing in most trikes is quite simple and the Ramphos is no different. Bar full forward for takeoff largely prevents pitch control errors by new pilots. Slow approach helps produce short water run-out on landing (not measured). Excellent visibility in nearly all takeoff and landing operations. Demonstrated ability in fairly rough water conditions.
Cons – Rather small wheels may make a rough- or soft-field emergency landing better done on the boat hull. As with all trikes, you have no flaps to control approaches; good planning is important. Crosswinds can be difficult in trikes (but fortunately much less so in a seaplane on a large body of water).
Control
Quality and quantity for: Coordination; Authority; Pressures; Response; and Coupling.
Pros – For a 15-meter (161-square-foot) wing, handling pressures were acceptable with good response. Trike wings like the Ramphos S have little adverse yaw to overcome. Crosswind landings on a seaplane are unnecessary except in an emergency on a small lake. Turns held their bank angle well in the Ramphos S.
Cons – Most large trike wings sacrifice handling crispness by making the wing taut enough to carry large loads (the Ramphos trike chassis and boat hull are 462 pounds empty). Precision turns will take some practice to achieve (common to all large-wing trikes).
Performance
Climb; Glide; Sink; Cruise/stall/max speeds; Endurance; Range; Maneuverability.
Pros – Water run was quite short (listed by Ramphos as 260 feet); we flew at a bit under gross but with two occupants. Most exposed glider tubing is faired sections, which should add some efficiency despite the boat hull. Climb seemed adequately brisk with the 65-hp Rotax 582 (though we did not fly at full gross).
Cons – A big boat hull will obviously increase sink rate (though designer says it may actually help glide). Fuel economy is not a strong point. New 81-hp Rotax 912 installation may increase performance but at a steep price increase ($8,500 over standard engine).
Stability
Stall recovery and characteristics; Dampening; Spiral stability; Adverse yaw qualities.
Pros – Very low stall speed, down close to 30 mph; speaks well of double-surface wing's slow-speed characteristics. Special aft keel section said to lower stall speed (no way to prove in test flight but stall was slow). As with most trikes, adding power gives proper longitudinal response, raising the nose.
Cons – Usual trike problem making power dives difficult to do if needed. Some overbanking tendency noted in steeper turns (though this is common in delta-wing aircraft). Parachute offered as optional but was not fitted to test Ramphos. Lap belts are standard on seaplanes to facilitate escape, however, they may not be sufficient in a violent upset.
Overall
Addresses the questions: "Will a buyer get what he/she expects to buy, and did the designer/builder achieve the chosen goal?"
Pros – Excellent international connection by American Gil McGarity, who speaks Italian and travels frequently to Italy (for his airline employer). Common materials used in boat hull so any repairs needed can be done closer to home. Wing design has been through German vehicle testing. Good value in an amphibious aircraft.
Cons – Currency value fluctuations make for uncertain pricing; tough for both importer and customer and doesn't benefit producer either. Despite close U.S/Italy connection, special parts could have delivery delay or high cost.