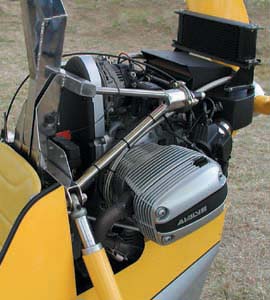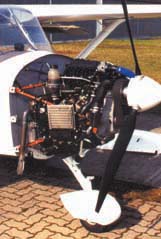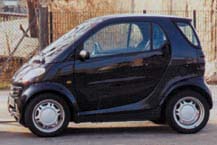 Ultralights have long been defined by their two-stroke engines. Rotax and other brands refined the two-stroke for aircraft use, and today's two-stroke powerplants deserve their popularity. In the important power-to-weight ratio, two-strokes are hard to beat. Their cost is low, their overhauls cheap; these humble powerplants have lifted many a pilot into the air for many hours.
But despite the improvements, despite plentiful businesses to help you maintain your two-stroke engine, and despite a good performance record, two-strokes are still seen as inferior to four-strokes by many aviators.
Add to these impressions the regulatory changes many see as inevitable. The blue-smoking two-stroke (even when optimized) presents environmental problems for snowmobiles, watercraft and gas-powered lawn tools. Two-stroke days are numbered—not because of efficiencies, but because of ecological concerns and political decisions.
Hail the Four-Stroke
General aviation people say, "Well, of course four stroke is better." But that's the only kind of engine most of them know, and their aircraft weigh enough to accommodate heavier powerplants. Cessna and Piper pilots often don't understand ultralight designs and why light two-stroke engines are so necessary.
Nonetheless, four-stroke engine enthusiasts win points for reliability, noise, fuel consumption, longevity before overhauls, and intangibles such as the way people feel when they hear a four-stroke rumble compared to a two-stroke whine. Two-stroke powerplants have many strong benefits, but it's easy to argue in favor of the four-stroke's appeal.
With these factors at work, it is hardly surprising that four-strokes have invaded ultralight aircraft. The invasion will advance when certain ultralights become tomorrow's light-sport aircraft. Though they seem new to many ultralight pilots, four-stroke engines—at least in the form of the half VW—have been around a long time.
The Quiet Invasion
Fiberglass-enclosed light-sport aircraft may adopt the Rotax 912 as their near-standard engine, but not all light-sport aircraft will be so heavy or enclosed.
Trike ultralights are as ready as any ultralight type to qualify for the industry consensus certification standards now being devised. Many have already passed rigorous certifications in other countries, and the design platform has been proven for decades. In recent years, the Rotax 912 has made many sales to trike pilots. In Europe, the BMW 1100 is gaining popularity.
Powered parachutes have created two-stroke installations as clean and functional as any four-stroke. They may use smaller four-strokes like the HKS, but they hardly need the power of the Rotax 912 or Jabiru 2200, nor their weight and cost.
Single-place light-sport aircraft—yes, some will be offered—are additional candidates that may not go to four-stroke power. But many ultralight three-axis designs have already jumped to the Rotax 912 HKS or Jabiru, and others are experimenting with choices like the Smart (automobile) engine from Mercedes.
Many Choices
The photos accompanying this article represent just a few of the four-stroke engines you might choose. I only selected models with lower power and lighter weight to keep such powerplants in range of ultralights and light-sport aircraft. Even with this limitation, the World Directory of Leisure Aviation lists 26 companies that produce 30 engines offering 100 hp or less and generally weigh less than 150 pounds. Power produced by this wide variety of engines runs from 27-100 hp, and the engine weights run from 85-150 pounds.
You can see that two-strokes ranging from 50-100 pounds offer the lightest airframe designs a clear advantage, even if they output only 25-70 hp (though Hirth offers two 100-hp models that weigh 93 pounds).
Among those larger aircraft which will qualify as light-sport aircraft, four-stroke engines are bound to reign supreme. Our lightest aircraft may continue to use two-strokes until the environmental side brings about a ban on such powerplants. In the meantime, newly designed lightweight four-strokes will probably find growing market share.
The companies I've identified offer varying degrees of support. Rotax is noteworthy for having a solid distributor network, a series of service centers, and superior technical support. Jabiru's web site shows many installations, plus nose bowls and cowls of several descriptions available. HKS has built a reputation for responsiveness in the U.S. Hummel is a made-in-the-U.S.A. company and is reported to offer good service. The BMW and Mercedes engines have worldwide reputations behind them, though neither has established any U.S.-based presence.
Painless Purchase
As the far-and-away leader in this aviation segment, Rotax sets the price pace with the 80-hp 912 selling for roughly $10,000. The 100-hp 912S costs about $11,000.
The 60-hp HKS 700E costs less than $7000, while the 80-hp Jabiru 2200 is about $8500. Real bargains for light kit builders come from the 28- to 37-hp Hummel engines at around $3000, though this is for a kit and the engines obviously won't lift heavier aircraft.
The BMW 1100S engine puts out 80- 100-hp depending on the developer. It sells for around $8000 in Europe, but its ability to fit other designs is not known.
Unlike most car companies, Mercedes actually supports the use of its Smart engine in aircraft. Despite a world-class brand name, the 70-hp Ecofly M160 with its 1500-hour TBO has only made a small impact on the aviation community.
As you choose your next light aircraft project or purchase, a four-stroke is much more likely to be in your future than in past decades. The purring sound reassures and offers greater service life while better satisfying the environmental lobby, making these four cycle powerplants a key to light aviation's future.
Published in Kitplanes Magazine