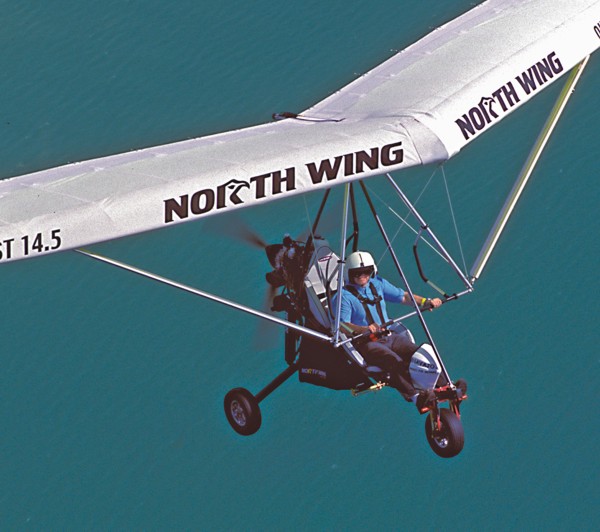 A couple of years ago, TC's Trikes owner TC Blyth and North Wing owner Kamron Blevins joined forces in a cooperative arrangement. TC's Trikes would buy wings from North Wing (rather than continue to make their own), and could better represent North Wing on the Eastern Seaboard. North Wing, headquartered in the northwestern state of Washington, is far from TC's Trikes' Tennessee home. It seemed a marriage of convenience and more.
Blyth has been particularly active in training and introductory flight lessons. He's done many thousands of them at his location near a top Tennessee tourist and outdoorsmen attraction – the Ocoee River, popular for white water rafting, kayaking, and other sports. Blyth has been focused on meeting this need with his own brand of trikes, and all his experience gave him something clear and viable to add to the expertise of North Wing.
North Wing has risen to the top of the U.S. trike building market. The company supplies trike wings to smaller trike carriage builders and continues to serve the hang gliding community with wings. In fact, it has become the second largest producer of hang gliders in America after Southern California giant, Wills Wing.
One plus one usually equals two but in this time of Sport Pilot/Light-Sport Aircraft (SP/LSA), a joining of former competitors might turn out bigger than the sum of its parts. I predict more such consolidation as SP/LSA takes hold in recreational aviation.
Buying American
Meanwhile customers interested in trikes just got a new and better reason to buy American: service around the country will be better with operations in the East and West. And the part
ners' first collaboration on the Navajo trike offers those interested in training a new choice with several advantages.
The Navajo uses Blyth's long experience with training to prepare a variation of the Apache trike series that can do duty in an instructional environment. North Wing contributes its user-friendly split mast, the super-sturdy engine mount that knocks out most vibration, the optional spring-assisted lift system, and North Wing's excellent wing designs. Put it together and the Navajo with
the Quest 14.5 wing and 65-hp Rotax 582 make an excellent training platform.
A Southern California soaring enthusiast group represented by an old friend, Bob Chase, calls itself TWITT, or The Wing Is The Thing. You may not know soaring pilots like I do, but they are as close to being obsessed with wing perfection as you can be. Nothing matters so much as the wing. Hang glider wings near this perfection by being ultra-simple and focused on efficient soaring flight with the least possible structure.
North Wing is a company born into hang gliding. It morphed from soaring to the powered ultralight scene in steps: hang glider replacement parts, then hang glider wings, then wings for trikes, then a lightweight trike, and finally a full-fledged 2-seat, fully faired trike. Adding the Blyth trainer-building experience completes the line.
Before I flew the Navajo, I visited with North Wing founder Kamron Blevins, who is also a long-time acquaintance. (We knew each other as hang glider enthusiasts long before Kamron considering building trikes.)
Given his background you shouldn't be surprised to hear that Blevins is proud of his new Quest wing. It has evolved from the Contour and the 14.5-square-meter Quest has more fullness in the midspan. This means that the chord at midspan is a little longer and the tip is slightly tapered. The alteration yields a subtle S-shape to the trailing edge, a feature that was first used by Moyes hang gliders. Blevins' version is slightly different so he calls it a Z-shape, but refers to this midspan chord extension.
Added fullness of the midspan "is where the handling comes from," says Blevins. When flying in gusty, crossing winds pilots will find this wing more nimble, requiring less physical effort to maneuver.
Going Topless
Topless and strutted in the North Wing way, North Wing has broken ground on such construction of wings. The hang gliding world has also gone "topless," though those lighter wings use carbon fiber spars inside the wing's double surface. The spar carries the landing loads and wires carry in-flight loads. For heavier trikes, a carbon fiber spar would have to be much more robust. Thereby, struts versus cable bracing makes a better choice while saving weight and cost, says North Wing. Topless wings do away with a drag-producing kingpost on top and are also a lot easier to get through regular hangar doors.
North Wing's struts use an internal structure to provide the strength with the visible aluminum fairing of the side struts not composing a structural component, Kamron says.
In one of the photos (see "ZIPPER PORTS"), a small pulley reveals where a trim tab was located about three-quarters of the way out on the left strut. Blevins experimented with this pulley system and a controllable surface to see if P-factor could be offset with an adjustable system. In the end, he found that adjustable heim joints gave lateral engine mount adjustment sufficient to overcome most of the slight turning effect in powered climbs. On the trike chassis twin cadmium-plated struts adjust to allow precise engine positioning and also offset P-factor, says Blevins. Once set, you'll probably never move these unless a prop change exacerbates the problem.
It isn't new for the Navajo but North Wing's split mast is a feature that surprisingly has not appeared on more trikes. The construction is more complicated, but North Wing addresses this with a welded "spine" assembly. A split mast allows the rear seat occupant to hold a natural posture and to look around freely where the normal single mast often restricts those movements in aft seat occupants.
A custom fuel tank also on the entire Apache trike line allows easy fueling without having to remove skirting or fairing parts. The filler neck extends up to the left side engine mount. Because you don't have to move fabric to access this point (see "SOLIDLY BRACED"), you are unlikely to spill fuel on the fabric.
Two narrow radiators flank each side of the engine structure and the battery is tucked underneath the engine. Further down, below the engine mount, North Wing has provided a parachute system mount bracket. It is permanently welded on so that you can easily add the option if you want. In the past, North Wing offered parachutes as built into the base price. But Blevins says only 23% wanted the system so the company discontinued the policy.
One look at the engine mount structure should tell you that North Wing's engine isolation system works quite well, successfully dampening most of the vibration. Extensive use has been made of rubber isolation mounts and the smoothness was a welcome change from some trike brands.
Picking up a heavy-duty trike wing weighing 105 pounds is no small feat. Raising it above the trike chassis can be even more challenging. As some other brands have done, North Wing's Navajo (and entire Apache line) can be equipped with a spring-assisted strut system. When not being used for this purpose, the twin struts remain Velcroed® in place alongside the seat frame structure.
Instructor and Student Friendly
While the Apache line is clearly a North Wing creation, the long experience of TC Blyth was used to make sure the Navajo model would work well as a trike trainer.
The test Navajo was fitted with optional dual foot throttles, one fore and one on the aft nosewheel steering bar. It also had an excellent instructor bar, curved pieces of structure that allow an aft-seat instructor to exercise a large measure of control over the wing position. Combined with a separate throttle control, an instructor should feel confidently in charge.
There are two positions for the front fork to be assembled, approximately 3 inches apart, to accommodate differing pilot leg lengths. This may prove useful to instructors working with different students and the lack of a fairing on the Navajo makes changing the position that much easier.
Optional zippered bags are sewn on the outside of the skirting on both sides. These hold a fair number of items and can be accessed in flight, though you'll want to take care that nothing falls out and goes into the prop.
With no fairing, however, I was cool aloft and got a lot of windblast under my partial face helmet. Buyers will want to choose helmets carefully and instructors will want superior communications systems.
Navajo brakes are hydraulic via a mechanism that is hidden under the forward seat. A parking brake feature is operated by a control that looks like a primer knob, but is actually a hydraulic locking system. It's located just aft of two levers on either side of the keel about under your calves and is an easy reach from the front seat. The parking brake lock knob is near the left side hand throttle and the right side choke.
Since I flew this Navajo, North Wing has gone to a conventional-looking disc and caliper brake on the nosewheel versus the "internal" or enclosed disc brake on the test aircraft. The older idea didn't dissipate heat well enough, Blevins said. And the company now offers a dual rear brake system similar to what I've found very effective on other trikes.
This Navajo was equipped with what Blevins called tundra tires, though they're much smaller than ones usually called by that name. These substantial tires are used in all three positions. The large tire set will be appreciated by all owners but certainly by instructors.
Same, Sweet Handling
I've been able to fly a lot of trikes and I have many hours flying a variety of hang gliders, so weight-shift control is very familiar to me. Of all the many wings I've flown, I've enjoyed the North Wing designs as thoroughly as any and better than most.
Handling on the Quest Navajo was quite comfortable even though conditions were fairly "nasty," my notes reflect, up to about 300 feet above the surface. Even in such conditions, the instructor bars are handy and very secure. They should be very usable for instruction from the rear seat (though I only sampled them on the ground).
Another admirable quality of North Wing designs is a wide speed range while still preserving excellent control feel. Very fast trikes often have such stiff handling as to not be fun to fly. Great handling trikes are often single-surface wings that cannot penetrate much headwind. North Wing's Quest 14.5 follows a company tradition of a broad speed range yet possessing reasonably light handling. Of course, heavier 2-place trikes with larger wings are not as nimble as lightweight trikes with smaller wing areas.
I explored the speed range on the Quest 14.5 to find slow flight could be conducted at about 35 mph. Then I was able to speed the aircraft to almost 80 mph in a slight dive with power on, though the descent in the dive was minimal. A 30-mph stall speed to an 80-mph top speed is quite generous for a weight-shift machine without trim adjustment. Trim speed was a reasonably comfortable 55 mph, a number adjustable with slightly different hang points.
I had no trouble keeping up with the Flightstar photo plane, and catching up to it was relatively easy, a situation not common to all trike flights I've made.
Trike designer Kamron Blevins knows his trade. In several stall trials, I was never able to get any kind of a stall break, even with the control bar fully pushed out. Students should find this reassuring, especially on that first solo flight.
Made in the USA
As international aircraft seem to flood America under the Light-Sport Aircraft rule, it's nice to know you can still buy quality aircraft from Yankee producers. Of course, this is true throughout light aviation but among trikes, the ranks of national producers have thinned. North Wing Design has continued to innovate and work the enterprise until it is arguably the largest U.S. producer of trike wings and complete aircraft (in addition to hang gliders).
The Navajo is a derivative of the Apache ST trike. In fact, the Apache series has no less than nine variations. Many of these are engine-related, but even parsing out that choice, five versions of Apache are available to buyers. The Navajo is the lowest cost of these, beginning at $16,650 with the Rotax 503 engine, and increasing to $20,500 for the Rotax 582-powered model.
The Navajo is a "lean" trike without nose fairing or side skirting (which is really not needed on a training trike). The Apache Classic adds North Wing's distinctive nose and underside fairing with fabric skirting. The Apache Sport has a full fairing body around the cockpit.
You can add the fairing and/or skirting later if you prefer. In this way a trike flight school might use this trike as a trainer for a few more years, then add the fairing and sell the transitioned ultralight trainer as an Experimental Light-Sport Aircraft (ELSA), which a new owner could fly as a 2-seater with his Sport Pilot license. Though not widely understood, this feature of the LSA rule allows an ultralight trainer bought in early 2006 to still be used for two full years (until January 31, 2008). Before that date, it must be N-numbered as an ELSA and it can serve for two additional years (until January 31, 2010). At the end of four years of flight school service the transitioned trike can be sold to a customer for personal use as a 2-seat aircraft. This scenario preserves the sale of exemption ultralight aircraft; you have lots of time to get your value from it.
Despite the assurance of useful value for an exemption ultralight trike bought today, North Wing does plan to pursue Special Light-Sport Aircraft approval. Blevins was at work on the documentation requirements as this report was written. He says the project should be complete in early 2006 and available for sale before summer 2006. Still, the exemption ultralight available today is likely to be a lower-cost option than a fully certified SLSA.
A 50-hp Rotax 503-powered Navajo might suffice for some flight schools or individual operators and it is available complete for $16,650 (as of late October, 2005). The 65-hp Rotax 582-powered version costs $20,500. North Wing also offers the MZ 202 engine for a $1,751 upgrade from the standard Rotax 503.
Four-stroke packages are available for the 81-hp Rotax 912 and the 60-hp HKS 700E. You can upgrade to the Rotax for about $8,000 to $9,000 additional while the HKS engine is more economical, approximately $4,000 more than a Rotax 582 with electric starter, according to Blevins. To give one example, the Apache Classic – basically a Navajo with front fairing and side skirting – retails for $36,000 with a Rotax 912.
For those who'd like to save some money by doing their own building, North Wing says the build time is short – only 3 hours for the trike and engine. You can review the parts lists and subassembly drawings for such assembly on the company Website. You could build the chassis for about $5,000 and add engine and wing when you are ready. The Quest 14.5 flown for this report lists separately for $5,190.
To the more modestly priced Navajo you might want to add a few options. North Wing offers a long list but some that have wide appeal include: IvoProp 3-blade prop (upgrade cost about $200, depending on your exact choice); electric starting package ($1,500); instructor bars ($126); dual steering and throttle ($290); dual rear brakes, which will provide much better slowing/stopping power ($300); spring-assisted mast lift ($225); plus an entire selection of conventional instruments or an EIS unit ($575).
Put it all together and you'll have a durable trike that North Wing says won't get loose and sloppy over the duty of instructional flight or heavy personal use. Given its welded "spine" structure, the extra-sturdy engine mount combined with a proven trike building capability relying on the experiences of two knowledgeable designers, plus those dandy-flying North Wing trike wings, the Navajo can make a very smart and satisfying purchase.
Since you can add the fairing, skirting, and other options as time passes, you can upgrade your Navajo all the way to the deluxe Apache Sport. Added to the comfort of dealing with a company that's survived and prospered for a long time, the adaptability makes the Navajo trike a design worthy of your serious purchase consideration.
Published in Light Sport and Ultralight Flying
Empty weight
360 pounds 1
Gross weight
950 pounds
Wingspan
31.5 feet
Wing area
158 square feet
Wing loading
6.0 pounds/square foot
Length
9 feet
Height
8.5 feet (with strut-braced wing)
Kit type
Fast build 2
Build time
about 3 hours 2
Notes:
1 Trike only 140 pounds; Rotax 582 B drive without electric start, 92 pounds; wing 105 pounds; then add for accessory systems
2 Six components that assemble quickly (see company Website)
Standard engine
Rotax 582
Power
65 hp at 6,500 rpm
Power loading
14.6 pounds/hp
Cruise speed
40-55 mph
Never exceed speed
60 mph
Rate of climb at gross
900 fpm
Takeoff distance at gross
125 feet
Landing distance at gross
125 feet
Standard Features
Strut-braced Quest 14.5 double-surface wing, instrument pod, steerable nosewheel (push right, go left) with nosewheel disC brake and trailing link suspension, hand and foot throttles, shoulder seat belt system with recoil for front seat, basic instruments, heavy-duty fiberglass main gear legs, custom fuel tank, 3-blade composite prop
Options
Nose fairings and side enclosures (Apache Classic or Apache Sport models), choice of other wings from North Wing, Rotax 503, 912 or HKS 700E or MZ 202 engine choices, electric start, dual steering and throttle, 4-blade prop, ballistic parachute system, and more.
Construction
6061-T6 and 7075-T6 aluminum airframe, steel and aluminum fittings, AN hardware, fiberglass, Dacron sailcloth
Design
Cosmetic appearance, structural integrity, achievement of design goals, effectiveness of aerodynamics, ergonomics.
Pros – Simplified training-capable version of the Apache trike series. Excellent dual-mast design that increases comfort for the rear occupant. Comfortable seats with front seat back support (folds down), optional spring strut to ease lifting of the wing; excellent engine vibration isolation. Slightly revised and versatile wing.
Cons – No nose fairing or side panels or skirting. Unique features plus desirable options produce a higher price. The strutted Quest 14.5 wing, while delivering a modern look many want, makes others question the structural integrity (though testing and field experience have proven the concept).
Systems
Subsystems available to pilot such as: Flaps; Fuel sources; Electric start; In-air restart; Brakes; Engine controls; Navigations; Radio; (items covered may be optional).
Pros – Custom fuel tank fills easily (located in the back near engine). Spring-assisted wing-lift system greatly eases setup. Easy access to engine for service work. Optional front or rear nosewheel steering control with throttle. Electric starting and remote choke both fitted to test aircraft. Convenient switch panel between legs on keel. Hydraulic parking brake.
Cons – Training is needed to optimize features like the spring-assisted lift. In-flight trim not fitted to the test ultralight. Some features, like the heim joint used to adjust engine position, are used only once or infrequently, yet add weight and appearance of complexity.
Cockpit/Cabin
Instrumentation; Ergonomics of controls; Creature comforts; (items covered may be optional).
Pros – Thickly padded seats include side bolsters. Folding backrest in front; good back support and easier rear entry. Adjustable front fork position for pilots of different height. Dual mast design is more user-friendly than most trike masts. Shoulder belt harnesses front and rear with recoil in front.
Cons – The Navajo "training" chassis is Spartan compared to European trikes (though fancier faired North Wing models compare well). Dual steering is an optional extra. No storage areas for things you want to take along (though model is aimed at training.) Windier cockpit with no nose fairing.
Ground Handling
Taxi visibility; Steering; Turn radius; Shock absorption; Stance/Stability; Braking.
Pros – Nosewheel steering uses a trailing link suspension and a dampener. Maneuverability is very good, a common trike benefit as you can move the wing to avoid obstacles. Nosewheel brake is useful on paved ramps and has a parking brake lock. Good ground clearance.
Cons – Nosewheel brake is not useful for heavy, quick stopping; trikes brakes are more effective on the main gear (North Wing has such an option). Taxi handling trikes in stronger winds requires more physical strength. Optional rear steering system needed for instructor ground taxiing (but works well).
Takeoff/Landing
Qualities; Efficiency; Ease; Comparative values.
Pros – Lighter weight trike with Rotax 582 engine leaves ground quickly. North Wing's ground parallel thrust line reduces swing-through motion at lift-off. New Quest 14.5 wing gives good control authority for windy landings. Adjustable engine position strut helps adjust for P-factor.
Cons – Quest, a double-surface wing, is best with a faster approach (50 mph). No flaps or slips to control approaches; plan ahead or S-turn. All trikes are less versatile in crosswind conditions compared to 3-axis ultralights (though experience can greatly widen your capabilities).
Control
Quality and quantity for: Coordination; Authority; Pressures; Response; and Coupling.
Pros – Building hang gliders for many years gives designer Kamron Blevins the experience to wring superior handling from his wings. As a double-surface wing, the Quest retains light controls useful for training application. Lightened 2-place chassis (less fairing, etc.) helps control agility.
Cons – Though a lighter 2-seat trike, the Navajo not nearly as agile as company's single-seat Maverick. Control pressures, while reasonably light in a large, double-surface wing, still require more effort than a joystick. No other negatives.
Performance
Climb; Glide; Sink; Cruise/stall/max speeds; Endurance; Range; Maneuverability.
Pros – Quest continues the surprisingly wide speed range common to many North Wing designs. Good climb rate of 900 fpm with Rotax 582. Double-surface wing retained energy quite well on landings. Thanks to the unique "spine" construction with superb shock mounting, engine vibration was well isolated.
Cons – The Navajo also sold with lower power Rotax 503, less robust for training (not tested). No trike dives well at high power settings. Not designed for cross-country flying; aimed at training market. Wing is a middle ground design with less top speed (though speed isn't needed in training).
Stability
Stall recovery and characteristics; Dampening; Spiral stability; Adverse yaw qualities.
Pros – The Navajo with Quest wing would not break in stall during any trials; perhaps good for newer pilots. Recoil shoulder seat belt system for front seat pilot; shoulder belt without recoil for rear. Very predictable wing with no evil tendencies discovered. Steep turns maintained bank angle well.
Cons – Struts rule in fixed-wing design and have advantages on trikes (easier hangaring), but some question the long strut's ability to withstand negative gust loads without jury struts. No parachute fitted (often present in other North Wing evaluation flights). No other stability negatives.
Overall
Addresses the questions: "Will a buyer get what he/she expects to buy, and did the designer/builder achieve the chosen goal?"
Pros – Contemporary trike aimed at the training market. Excellent Quest 14.5 wing design, a core strength of North Wing; handling and speed range are both very good. Dual mast more comfortable for rear occupant. Superior engine mount isolates vibration well. Company is the largest and most successful American trike builder.
Cons – At more than $20,000 fully assembled with Rotax 582 engine, the Navajo isn't cheap for an unfaired chassis (though a Rotax 912-powered trike will cost much more). Market for a training-focused trike is uncertain in this time of Light-Sport Aircraft and new certification.