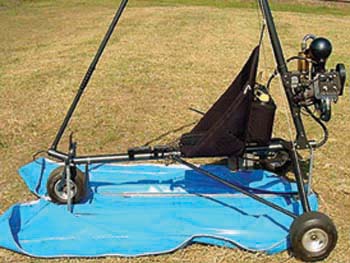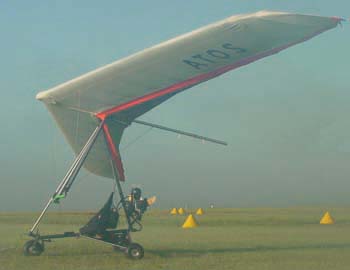 Combo to consider: light trikes and the ATOS wing.
Attention may be centered on SportPlanes™these days, but many aircraft in the rest of the world of Light Stuff can fly on as if no new regulation were pending. Such aircraft include the range of what the FAA calls ultralight vehicles, but this category isn't limited to the U.S.
At least through the next three-plus years, two-place trainer ultralights may still operate under their present-day programs. But this month we focus on genuine, by-the-numbers, single-place ultralight vehicles, just as Part 103 rule-writer Mike Sacrey intended.
The U.S. isn't the only country allowing very light aircraft to fly under relaxed rules. England has a sub-70 (kilogram) rule that permits powered hang gliders and superlight trikes. Australia also permits these light machines. For such machines in the U.S., Federal Air Regulation Part 103 remains the relevant rule.
Introducing Airtime Products
Continuing the theme of international brands reaching U.S. shores, Airtime Products Pty. Ltd. of Australia is here.
Some U.S. hang glider pilots know this brand as they have checked out or bought an Explorer rig. Like similar products from Sweden (Mosquito) and the U.K. (Booster), Explorer is a harness that secures a pilot to a hang glider wing and incorporates a small engine. Naturally, these must be very light components if a hang glider pilot is to foot-launch and fly conventionally with his hang glider. Yet it needs adequate power to effectively launch a hang glider to altitudes where soaring can begin.
Since 1997, Airtime has mastered the powered hang glider harness, and it later turned this experience into a more conventional product, the Powerlite trike carriage.
Except for a steering fork and some gusset plates, Powerlite is composed of just six lengths of tubing. The structure can't get much more basic. The seat is sewn material, and the fuel tank is housed in a fabric pouch on the back of the seat.
Airtime Products also offers an unusual line of engines including the popular Radne used on the powered paraglider, but you have probably never heard of the Cors-Air engines.
Shown on the Powerlite trike in the photos is the M21Y Air powerplant, which weighs less than 30 pounds and costs just over $2000 including its exhaust system. The M21Y is a single-cylinder, 173-cc two-stroke producing 21 hp at 7200 rpm. It is secured with five rubberized shock mounts and has electronic ignition plus electric starting with a built-in battery charger.
Not Just a New Chassis
Airtime's Bauer brothers have done more than expand their Explorer powered harness into the Powerlite trike. They also added the latest in rigid-wing hang gliders.
The ATOS (built by A.I.R. in Germany) has dominated hang glider rigid-wing class competitions in the two years it has been on the market. Providing glide performance of better than 19:1 and a low sink rate of less than 140 fpm (when flown as a hang glider), ATOS is a powerful companion to the Powerlite trike. With controllable surfaces, Bob Bauer says, "I found the combination of ATOS and Powerlite trike base to be extremely fun."
Bauer says one of his two primary changes to the hang glider wing involves sleeving the keel tube plus designing a special hang bracket used to connect the wing to the chassis. Another change widened the control bar connection at the top to allow full and free movement even when the trike carriage mast runs in between. The ATOS weighs only 73 pounds despite a cantilevered 42-foot-span wing.
The ATOS control bar does not support the wing in the usual hang glider manner; the side wires are control cables, not structural bracing. They operate spoileron-like surfaces on each wing for lateral control. Pitch is still manipulated via the pilot's movement against the control bar, which is firmly supported front to rear. Flaps are deployed with a line-and-cam system similar to fittings on sailboats.
The main drawback of rigid wings like ATOS is their price—more than $10,000. If that's too rich for you, consider Airtime's delta wings that can cut that price in half or less (with somewhat less glide performance and speed range).
In the future world of SportPlanes™, flying machines like ATOS and Powerlite will continue to fly with freedom unheard of in most other aviation categories or countries.
FOR MORE INFORMATION, contact U.S. AirBorne Sport Aviation Center at 1212 5th St., Asotin, WA 99402; call 509/243-4988; e-mail info@usairborne.com; web www.usairborne.com.
A.I.R. may be contacted in Australia. Visit its web site, www.airtimeproducts.com.
Published in Kitplanes Magazine
| | |
| --- | --- |
| Empty weight | 168 pounds |
| Gross weight | 390 pounds |
| Wingspan | 41.6 feet |
| Wing area | 146 square feet |
| Length | 6.5 feet |
| Cruise speed | 65 mph |
| Stall Speed | 26 mph |
| Rate of climb at gross | 500 fpm (est.) |
| Takeoff distance at gross | 50 feet |